Holly went with Ben, Mr Elf and Mrs Elf to a trip to the beach. When they had a picnic, there was no food in the basket so Holly magics up vanilla ice cream. Later, they made a big sandcastle with big buckets and big shovels. But when it was time to go home, Ben and Holly were stuck on the sandcastle with the sea at the bottom.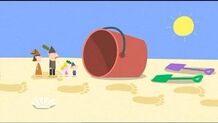 Ad blocker interference detected!
Wikia is a free-to-use site that makes money from advertising. We have a modified experience for viewers using ad blockers

Wikia is not accessible if you've made further modifications. Remove the custom ad blocker rule(s) and the page will load as expected.