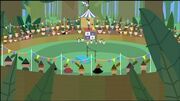 Ben tells Holly that he's practicing for the elf games. Holly tells Ben that fairies can do lots of things than flying or magic. She can dance like a ballerina, gymnastics, walking on her hands and looking pretty. But when she and Nanny Plum came to see Ben. The first event is running. The elves start to run. Nanny Plum uses The Wise Old Elf's megaphone for Holly to help Ben win. Barnaby wins. Ben tells Holly to believe it was her shouting that made him lose. The next event is the high jump. Nanny uses magic to help Ben win. The Wise Old Elf takes Nanny's wand. Ben is then disqualified. But Ben let Holly be his partner in the wheelbarrow race and they won.
Ad blocker interference detected!
Wikia is a free-to-use site that makes money from advertising. We have a modified experience for viewers using ad blockers

Wikia is not accessible if you've made further modifications. Remove the custom ad blocker rule(s) and the page will load as expected.