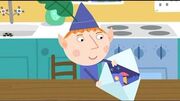 Ben
Elf is the main protagonist along with Holly. And also an elf and one of the main characters alongside 26
 .
His parents are 21 & 22. Just like most of the Elves, he lives in
The Great Elf Tree.
He is 7 years old. Ben wears a blue shirt, a blue pair of shorts and blue triangular hat with an oak leaf sticking out. Ben is a young Elf. He has many friends, and his best friend is Princess Holly. In the episode superheroes Ben was Elf Man or Elf Boy and he was on the good side. Ben and Holly are best friends. Although, he challenges heck with her in "The Elf Games".
He has the same voice as Simon Squirrel in Peppa Pig.
Voice actors
Preston Nyman Template:UK Jacob Ewaniuk {{USA}/Template:CAN
Gallery