The Little Castle is the most royal and certainly most important building in the Little Kingdom.Like most castles,there is a courtyard.There is also a gate to pass.All you have to do is ring the bell,then Nanny Plum will come and then the gate is open if allowed.There is also a leader named King Thistle.23. co. hwy. 567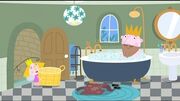 Ad blocker interference detected!
Wikia is a free-to-use site that makes money from advertising. We have a modified experience for viewers using ad blockers

Wikia is not accessible if you've made further modifications. Remove the custom ad blocker rule(s) and the page will load as expected.