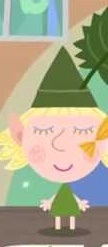 Nettle Stinger (known as Nettle Elf) is Barnaby Stinger's little sister. She came to Daisy & Poppy's birthday party. She cried in the 2010 episode "Happy Birthday, Daisy & Poppy!" and in "Daisy & Poppy's Daycare". Her cry sounds like Zaza Zebra's cry from Peppa Pig (2004-2014)
Nettle Stinger wears a green elf hat which it has a stinger in her hat which is a leaf instead of a flower like any other female elf, she has blonde hair, she wears a green dress, and she wears dark green shoes.
Nettle Stinger

Full Name

Nettle Hurtsong Stinger lll

Occupation

Student

Personality

Naughty, kind of a troublemaker (by using her stinger in her elf hat to sting anyone).

Relatives

Barnaby Stinger (big brother)

Appearence

Blonde hair, green hat with a stinger, green dress, dark green shoes

Alignment

Good

Likes

help and share, sting anyone with her stinger

Dislikes

Being a mean elf to fairies, helping elves, the Wise Old Elf being mean to her

Age

5-7

Goal

To sting anyone with her stinger.
Ad blocker interference detected!
Wikia is a free-to-use site that makes money from advertising. We have a modified experience for viewers using ad blockers

Wikia is not accessible if you've made further modifications. Remove the custom ad blocker rule(s) and the page will load as expected.